Chris' '90 Toyota Celica All-Trac Turbo (aka "The Shuttle")
Turbo System - Innovative Turbo Systems' T04E-50/T3 Hybrid Turbo
Updated: September 25, 2017
In the fall of 2003, I upgraded the turbine from the existing .63 a/r to a .82 a/r unit. It'll be interesting to see how this affect power output.
During the summer of 2002, I switched from the Spearco WTA IC system to a HKS FMIC. And, as of December 2002, I'm now using an Innovative Turbo Systems (ITS) T04E-50 / T3 stage 5 .63 a/r triple ball-bearing turbo. This was a minor upgrade from my previous turbo, a Turbonetics T04E-50 / T3 stage 2 .63 a/r single ball-bearing unit. The ITS and Turbonetics turbos share compressor sizes, but the ITS turbo has a larger turbine which will will result in more high-end power. Notice in the photos the larger turbine exit.
I also built a heat shield to minimize radiant heat from the turbo and exhaust header.
Photos of the engine compartment both with and without the turbo heat shield. Never let anyone tell you that heat management is a none-issue on a GT-Four, or any turbocharged car for that matter. That's total bunk.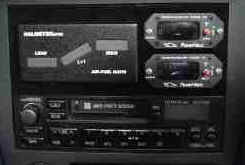 Above the stereo are the Halmeter AF30 air/fuel ratio meter and the two digital IC temp gauges. With the ATA IC, I'm using only one of the gauges. No, the other one is not for sale. I'll find a use for it. :-)
---
This site is best viewed at 1024x768. All information provided on www.turbocelica.com is provided without any expressed or implied warranty. It is the responsibility of each visitor to determine the suitability of this information for your specific application.