Chris' '90 Toyota Celica All-Trac Turbo (aka "The Shuttle")
Electrical Wiring - The Control Box
Updated: September 25, 2017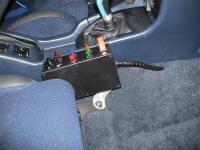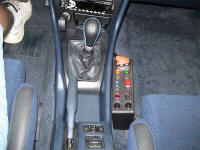 Hereís a look at the control box I've fabricated to house control switches for a few ancillary system I've added to The Shuttle.
The red covered switch controls arming of nitrous for spool-up.
The illuminated blue toggle switch switches on and off the auxiliary cooling fans, while the red pushbutton invokes a timer that runs them from 2 to 45 minutes.
The illuminated green toggle switch enables water injection by powering the Aquamist System 2S.
The illuminated amber toggle switch enables ECU logging of the Autronic SMC engine management system.
The illuminated red toggle switch arms the launch control circuit. To the right of this toggle is a 4 position RPM select switch. The LH and RH black push-button switches enable and disable launch control, respectively.
I wanted to include additional switches and circuitry to control IC and radiator spray, but simply didnít have enough room in this plastic box.
---
This site is best viewed at 1024x768. All information provided on www.turbocelica.com is provided without any expressed or implied warranty. It is the responsibility of each visitor to determine the suitability of this information for your specific application.