This 1973 Plymouth Duster was originally purchased new by a fellow in his early 20's, and was unfortunately killed in Vietnam only a few months after buying the car. His Mom had driven it for a few years but grew tired of the heavy clutch and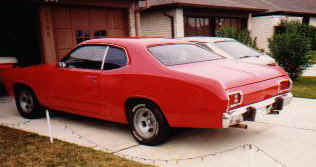 simply parked it in driveway of home.. When I bought it during the summer of 1984 after returning home from active duty in the Marines, the car had not been driven in about seven years. A few gallons of fresh gas in the tank and a shot of ether, and this baby came to life.

Over the next several years, it was my daily driver. As a matter of fact, it was my on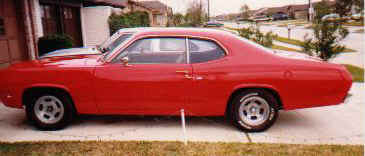 ly car until I bought the '85 T-Bird below. Once I had another car to drive, I went about restoring this one to near show-room condition. I rebuilt the engine, installed a high performance clutch and pressure plate, and swapped the original 3-speed manual transmission for a 4-speed. I also rebuilt the entire suspension, from ball joints, tie-rod ends, pitman and idler arms, and rear leaf springs. I even installed some up-rated front torsion bars. I then stripped the car and proceeded to clean, sand blast, prime and paint everything, from floor pans to door jambs, to re-undercoating the inside of the fenders. When all the hard stuff was done, I laid on several coats of paint in the original color of Rally Red.
Performance wise, the car ran pretty well. The engine was rebuilt with 10:1 TRW flat-tops, a Competition Cams 268H cam (268 advertised duration & .468" lift), Blackjack 1 5/8" alumicoat headers, and an Edelbrock Torker intake topped with a Holley 750 double-pumper. The only serious work on the engine was a mild porting job to the heads. I used the factory electronic distributor with a MSD 6C ignition module. The 8 3/4 sure-grip (Mopar's version of a positrac) rear-end was setup with 3.91 gears. With normal driving, it averaged 13 mpg. It also was capable of a top speed of 140 mph in 4th at about 7000 rpms. I actually did this once on the Sam Houston Tollway shortly after it opened. Let me say that this car was never designed to go faster than 120 mph due to its brick-like aerodynamics. At the drag strip, it ran consistent 13.8s and 14.0s which were reasonably good at the time for a car of this generation. Overall ,it was a very fun car to toy around in.
Along about the fall of 1989, I had pretty much lost interest and had it for sale. During this time, it was stolen and stripped. I recall receiving a 911 page from a friend to say that the cops had recovered my car and had towed it to my house. Blah.. about the only things they thieves didn't take was the wheels because I used wheel locks.
Insurance companies (really, simply, plainly, just) suck. So I called my insurance carrier, ------------- , and apprised them of the situation, to which my agent said he'd have the Insurance Company send a check for $750 in a couple days. Huh? What? When I started driving the car since the restoration, I had told my agent that I wanted a "stated amounts" policy in the amount of $4500. Unfortunately, my agent didn't write the policy correctly, and issued a standard auto policy. Come on.. Who puts full coverage insurance on a fifteen year-old car unless it's something special. Needless to say, I had to argue my point and threaten both my agent and the Insurance Company with a lawsuit if they didn't pay me the $4500, the amount I had previously requested as the value for the stated amounts policy. In the end, the Insurance Company hired an independent auto appraiser, at their cost, mind you, to look at what was left of the car and also review the receipts I had kept for all the costs incurred during the restoration. In the appraiser's opinion, I had set my value too low, as he was well prepared to tell the Insurance Company a figure nearer to $6000. As a result, I ended up receiving a check from the Insurance Company for $4500, plus tax, title and license. It happens so infrequently in life, one has to rejoice with joy when the individual triumphs over a major corporation in a dispute such as this.