Chris' '90 Toyota Celica All-Trac Turbo (aka "The Shuttle")
Engine Cooling System - Custom Aluminum Radiator
Updated: September 25, 2017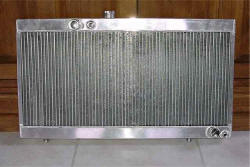 Always looking for ways to improve the car, I opted to have a custom radiator manufactured by Ron Davis Racing. Here are the photos. This radiator is of the same dimensions and will directly replace the stock radiator. It uses a standard import radiator cap, overflow tube, and it sits in the standard location on two large dowels just like the factory radiator. The stock upper mount is not used in favor of a couple aluminum mounts which secures the radiator to the same bolt holes used by the stock upper radiator mounts. The extra female NPT fitting on the upper tank near the upper hose connection is for the post-turbo cooling water. The only item Ron Davis did not put onto this radiator lacks is the 16 mm female bung in the lower tank for the temp switch. So, I've added it. The bung you see near the lower hose connection is for a drain valve. I've also fabbed alum mounts for the 11" Spal fan. If you look closely, you'll see that I sealed the fan to the radiator core with weather-stripping from Home Depot.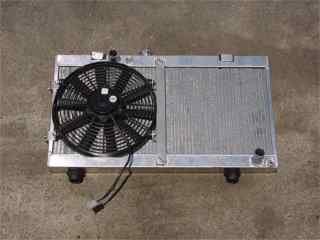 Here's the radiator with a large SPAL fan installed as a replacement for the stock fan.
And here's the coolant recovery bottle that I fabricated. This was necessary because the IC piping between the HKS FMIC and the throttle-body passes right through the area where the stock reservoir was located. I created this reservoir as a replacement. It mounts just inside the front left frame rail just in front of the starter and under the stock location of the battery, This new reservoir has a 1/4" hose barb fitting on the bottom which is connected to the radiator via silicone hose. The I cut-up a Mitsu Eclipse water neck for the radiator cap mount which was then welded to the filler tube of this new reservoir.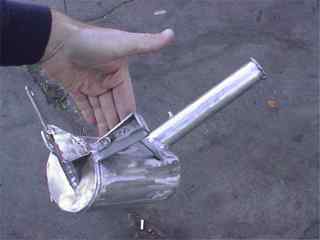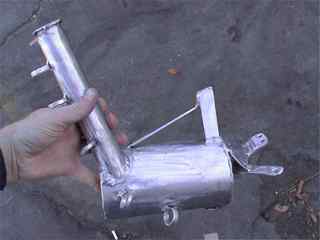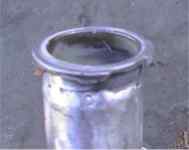 ---
This site is best viewed at 1024x768. All information provided on www.turbocelica.com is provided without any expressed or implied warranty. It is the responsibility of each visitor to determine the suitability of this information for your specific application.