| | |
| --- | --- |
| Sold! My 2001 Mercedes Benz CLK430 Cabriolet | Updated: September 25, 2017 |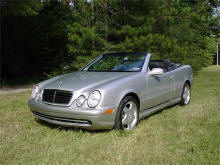 Owned: May 25, 2001 - May 23, 2003
Mileage: ~18,600
Dealer: Andrew Schultz at Prolease (713.290.1000; www.prolease.net)
For so long as I can remember, I had always longed for a convertible. So, in May 2001, I leased this baby for a 4 year term. While I did like the car, life's priorities evolve over time and this car became a luxury that I no longer wanted (to pay for, that is!)
This car has so many features, some of which include the brilliant silver paint, charcoal leather interior, black birdseye maple trim, car alarm, Tele-Aid System (similar to General Motor's OnStar program), Bose speaker system with 6-disc changer, Xenon headlamps, headlamp washers, rain-sensitive wiper, heated seats, dual climate controls, integrated garage door openers, and 17 AMG wheels with Michelin Pilot Sport tires; 225/45 front and 245/40 rear. BTW, these tires SUCK in the wet and/or rain!
It has a 275 HP 4.3L V8 engine coupled to a 5 speed automatic trans. In the two years I owned it, I averaged 18 mpg in city driving and 21-24 on the highway.
The photos below were from May 2001 when I took possession it.
---
This site is best viewed at 1024x768. All information provided on www.turbocelica.com is provided without any expressed or implied warranty. It is the responsibility of each visitor to determine the suitability of this information for your specific application.