Car Shows
Import Expo, Houston, Texas, Sept. 27, 2003
Updated: September 25, 2017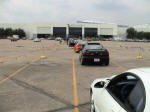 Summary. The Import Expo was held at the Astro Arena (next to the Astrodome) on Saturday, September 27, 2003. It consisted of about 400 cars, of about 95% were Honda/Acura vehicles (i.e. Civic, Accord, S2000, Integra, etc.) And, although The Shuttle didn't win any awards, I was impressed with the volume of people who stopped by to investigate her. As has become standard fare with taking The Shuttle into the public arena, it was rather amusing to see folks strolling by and casually glance at The Shuttle only to catch sight of the FMIC and then swerve to come-in for a closer look. It's like they are thinking, "La de da, la de da.. it's a beautiful day in the neighborhood, beautiful day in the neighborhoo... What the heck?!?!?" About this time, they catch a glimpse of the FMIC and stop dead in their tracks. Their head tilts to one side a few degrees in Irish Setter fashion... as if this aids their brain in processing the concept of a "BIG FMIC," and specifically, "Why does this car need a FMIC *that* large? It's, after all, a lowly Celica." After a while, they either resume walking past as if to comclude the FMIC is fake and The Shuttle is a poser. Or, more commonly, they zoom-in for a closer look under the hood. Of the latter group of folks, several ask a gazillion questions, which is cool. This little activity was played over time after time all day, and proved to be a great source of amusement.
Photos of The Shuttle on display. Enjoy!
Photos of other Toyotas.
Photos of Kerry's 2000 Acura Integra. This is one very nice Integra.. with about $18K of audio equipment. Needless to say, the stereo sounded very good. I met Kerry while we were waiting for load-in on Friday prior to the show. This is his personal daily-driver, and also the audio show car for this employer, CJ Sounds, here in Houston, Texas. Enjoy!
---
This site is best viewed at 1024x768. All information provided on www.turbocelica.com is provided without any expressed or implied warranty. It is the responsibility of each visitor to determine the suitability of this information for your specific application.