| | |
| --- | --- |
| My 2003 Toyota Tundra Limited | Updated: September 28, 2023 |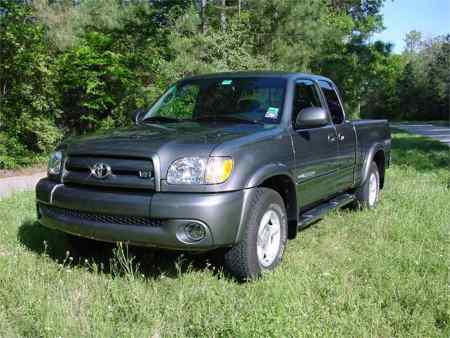 Purchased: October 12, 2002
Dealer: Gullo Toyota in Conroe, Texas
Salesman: Paul Auchtur
Cost: $28,495 ($750 below dealer invoice)
I've owned a variety of performance sports cars in my life, and as such, it comes as a bit of a surprise to folks who know me well to learn that I've bought a truck. Even my family, who, by the way, all drive trucks, Ford F150s nonetheless, were surprised to hear of my decision. However, be it known there's been this "truck-guy" hidden in me my whole life; well, at least from the time I was 13 and had an old '67 Chevy pickup to drive during the summer months at my family's property in east Texas... but that's another story for another time. So, on October 12, 2002, I start a new era in my life - my daily driver has changed. With this, I say bye-bye to sports cars and hello to this big rig. However, for those who are keeping close score, I'm have no plans to sell The Shuttle, well, not unless someone comes calling with a large heaping wad of cash. (Everything in life does have its price, right?) Back to the Tundra. Off the top of my head, I can immediately envision this change impacting me in two ways. Gone are the days of 30 mpg; the Tundra is rated 15/19, city and highway, respectively. And, I say by-bye to the nimble maneuverability of a sports car. No more zipping in and out of traffic (I never did this anyway. ha-ha) and slipping into small or otherwise tight parking spaces. Between the two, I think the gas mileage issue will more directly impact me as I have always parked out away from most other vehicles in what I refer to as the no-dent zone. Oh well, life goes on.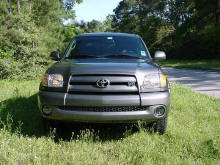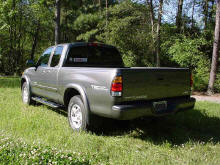 Ok, so why a truck? Two reasons, really. One, I was growing tired of living with the sports car ride and feel on a day-to-day basis. Don't take this the wrong way, I like the way my 2000 Toyota Celica GT-S rode and performed. It's a great car and it continued to provide me with miles of smiles. It's just that I was ready for something different. This is similar to the exaggerated desire for something different I get after driving my friend's 2002 Corvette Z06. It's a heck of a car; it's fast and powerful, has exceptional handling, and probably the best all-around sports car that can be had for $50K. But, man, spend a few hours tooling around in it and you'll want to get out of it and into something a bit less hostile to the body. Drive one and you'll understand. Ok, back to the question of 'why a truck?' The second reason is that I've needed a truck ever since I purchased my first rental property in Sept. 2001.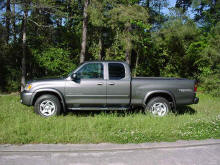 Ok, so now why a Toyota truck? This one is really simple. I'm been sold on Toyota reliability and dependability since purchasing my first Toyota, a 1990 Celica GT-S. Aside from the CLK430, a somewhat interesting anomaly in and of itself, I've owned nothing but Toyota's since this '90 Celica GTS, and all have been exceptional cars. Without going into the details, suffice to say that I've found something that works for me, so I'm sticking to it.

This truck is simply awesome.
In April 2003, I towed The Shuttle to the Southwest MR2/Celica All-Trac meet in Las Vegas, Nevada. And, I'm happy to report the Tundra had no problem pulling the trailer up the steepest hills, even at 6000 - 8000' elevation, with the a/c on. While many other trucks were fighting to crest some of the steepest hills, the Tundra just kept purring right along. A few times, the cruise control engaged passing gear for what seemed like 5 - 7 minutes on a long and steep incline. All the while, the engine temp gauge never budged. And, the best part is that I averaged 12.5 - 13.5 mpg for the entire trip. I think that's rather good considering I get 15 - 16 mpg in my normal mix of city and freeway driving.
Factory & Dealer Installed Options
4.7L 240 HP V8 engine
4-speed automatic transmission
Full Leather interior
AM/FM/Cass/6-disc CD changer
Towing Package - includes a class 4 receiver hitch, larger alternator; transmission cooler
All Weather Package - larger battery with more reserve capacity
Limited Slip Differential
TRD Suspension Package - Bilstien shocks, 16" wheels shod with BFG 265/65 All-Terrain tires
Side-Signal Side Mirrors
Brushed Stainless Steel Running Boards
Bed Extender
Line-X Spray-in Bedliner
Rearview Mirror Upgrade - integrated compass, outside temperature and auto-dimming function
Future Options (maybe)
TRD Supercharger or custom turbo setup
JBA Ceramic Coated Headers with a complete 2.5" exhaust
K&N Intake Upgrade - At 21K miles (Sept. 2003), I upgraded to a K&N drop-in filter.
Sold: Original 16" 2003 Tundra wheels and tires
---
This site is best viewed at 1024x768. All information provided on www.turbocelica.com is provided without any expressed or implied warranty. It is the responsibility of each visitor to determine the suitability of this information for your specific application.