My Automotive FAQ - My ARP 3S-GTE Head Stud Kit Saga
Notice. This information is from my first-hand experience with the ARP head stud kit for the 3S-GTE. If you have had a similar problem with these parts, contact ARP directly. There is nothing I can do to help you other than to provide this information to you.
For those that recall, I spent a bit over $1000 in December 1999, replacing a head gasket on The Shuttle because it blew-out due to the unusually low torque values that are recommended by ARP with their 3S-GTE head stud kit.
As a brief recap... When you pay $4200 for a crank, rods and pistons, you want to use equally capable parts during the engine build-up to any weak links in this proverbial chain. So, when I rebuilt my JUN 2.2 stroker engine, I spared little cost and this included using ARP head and stud kits. Well, the ARP head stud kit comes with a slip of paper that recommends a 35-lb-ft or torque with ARP moly lube. So I assembled according to the ARP instructions only to have the head gasket begin weeping coolant immediately after the first hard run at 10-12 psi. Needless to say that I was not a happy camper about this, but I went about fixing the car and chalking the entire situation up to the cost of playing and learning. I remember thinking "the average lifespan of a $265 HKS head gasket should be more than a month."

Hello ARP. It's a customer calling. While the head gasket was being replaced, I made contact with one of ARP's chief engineers, Tom Smith. We then proceeded to discuss in modest detail my head gasket failure and ARP's recommended torque values. Tom then resigned himself to research the issue, and he eventually concluded that the ARP-recommended value of 35 lb-ft as clearly inadequate. He also concluded that the correct amount should be 60-65 lb-ft (with the ARP moly lube).
The torque wrench, please... So, in reinstallation of the cylinder head and new head gasket, I torqued the head studs to 65 lb-ft. this value was attained by torquing the head in three increments, first to 20, then to 40, and then finally 65 lb-ft. After the repair was complete and the car was back on the road, I send ARP a letter on Dec 30th detailing the issue and praising Tom for his additional research. I also included my various receipts for the cost of labor and the new head gasket.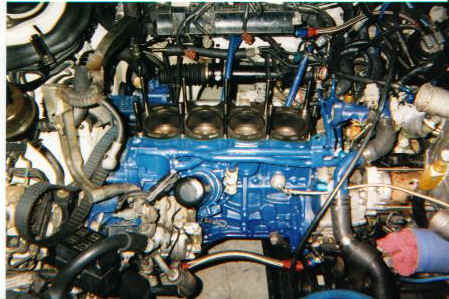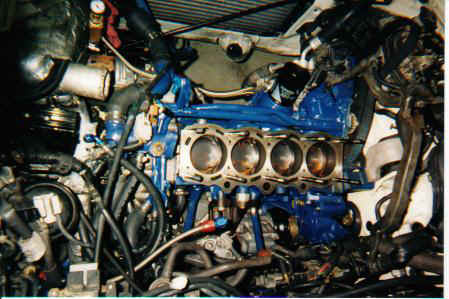 While it is possible to replace the head gasket without pulling the engine, I'm not sure I would take this route again. Dropping the entire engine-transmission assembly would have been much easier.
Hello? Anybody home? Between December 30th and March 17, I had not heard a single peep from ARP, no phone calls to "go piss off", no letters telling me that I don't know what I'm doing - nothing. This was, I guess, to be expected as even before I mailed the letter to ARP in December, I had pretty-much written this off as just another awfully expensive learning experience. I gave myself less than a 10% chance of recovering any money from ARP.
Ok, who's on point? So on Wednesday, March 15th, I placed a phone call to Tom, and enquired about whether they had received my letter of December 30th. He promptly stated that he had received it and passed the letter up the chain of command to the corporate office. He also said that the instructions included with new ARP 3S-GTE head stud kits will now contain the 60-65 lb-ft torque spec derived from his research. And finally, he said he'd have to make some calls to the corporate folks and get back with me on the reimbursement.

Good does happen. This is where it gets good. Tom called me a couple days later to say that ARP is sending me a check for the full amount of my repairs. Apparently, there had been a mix-up in submitting my letter as a claim to their insurance company. And, according to Tom, a high-ranking person in the company decided it would be best for the corporate image to do the right thing and immediately pay my claim out of corporate funds since I had been waiting patiently for nearly three months already. This is exactly what occurred. This check arrived in my mailbox just a few days later.
Summary. Words can't express my elation to find ARP standing behind their products in this manner. It's truly quite amazing. Finding a company in this day and age, much less this specific marketplace, that stands behind their products is a testament to the quality and caliber of the people at ARP. I'm very impressed.
For issues regarding your head gasket, please do not contact me. There's nothing I can further do to assist others who may find themselves in a similar situation other than communicating my story and providing the following contact information to you.
Please contact ARP directly at:
ARP Inc.
250 Quail Ct.
Santa Paula, Ca. 93060
Attn: Tom Smith or Chris Brown
Good luck!
| | |
| --- | --- |
| | Return to My Automotive FAQ |